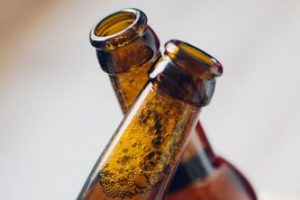 Kruegers have been making drinks and innovating beverages from time immemorable. A history of what the Krueger name means gives us a glimpse of what Kruegers have been doing throughout the millennia. In Germany between the 1100's and 1600's, a Krueger would be serving up beer at his inn for his faithful clientele. The weary traveler would set foot at the "Krueger Inn" and the host would fill his guest's cup to the brim; until all the stories were shared and the fireplace had calmed to a reddish glow.
At the same time across the German landscape, other Kruegers were hard at work in their craft of creating beautiful steins for people to enjoy their fresh beer in. Though not many people drink beer out of steins anymore, it was Krueger who brought you beer in a can. The beer that you drinks today is filtered for smoothness, yea' we were the first to do that too!
The name "Krueger" is synonymous with beer. One does not drink their beer cheerfully without some association to the Krueger family, who has worked so hard throughout history to bring beer to the thirsty masses. The Krueger legacy of hospitality and beer making continues to this day, where family recipes are used and hand crafted brews are tasted.
We champion our heritage of being Kruegers through our actions and what we make with our hands. Our name is, after all, on the side of everything we produce and that means something more than just selling stuff. We are literally giving you a piece of us. We don't take for granted a day that we are given and we are very thankful to you, our customers, who make all of our charity possible.
"With Krueger, You're always welcome in our Family."
Every year on January 24th we celebrate the birthday of "America's first canned beer" from 1935.
Meet the legendary, Gottfried, HERE.